Students on Exchange
Below are the accounts of some of the exchange experiences of students in the program. If you would like to include your experience here, please contact Dr Dan Bousfield.
The Benefits of International Study
To read about the benefits of international study, particularly as they relate to the development of people's careers after they have completed university, go to:
http://www.theglobeandmail.com/news/national/education/canada-needs-to-send-more-students-abroad/article21688540/
Aaron Pinto, a graduate of the IR program (2014), is featured.
Past Exchange Experiences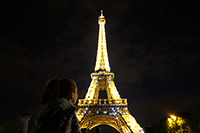 In the winter term (2016) I left to go on exchange to Paris to Sciences Po. I chose this university because it specializes solely in Social Sciences and it has been ranked the 13th best university in the world for Social Sciences. At first, moving to France was quite a change but this experience was by far the best I've ever had. From walking along the Seine River to eating fresh croissants every day, I got to fully immerse myself in the French culture. One of my favorite courses on exchange was on the Rwanda Genocide. As a part of the course, I got to hear a testimony from a women survivor of the genocide and I was able to go to a Rwanda genocide trial that was happening in Paris. I was able to meet and make friends with people from Australia, Austria and Mexico and through budget airlines, I was able to see a large chunk of Europe. I would encourage everyone to go on exchange because it truly ends up being an unforgettable experience; one in which memories will last a lifetime.
This is a small write up intended to provide some tips to any potential students waiting to go on an academic exchange in the Netherlands. More specifically this write up is geared towards those who intend to study at Erasmus University in Rotterdam.
After you have been accepted to go on an exchange, your first encounter with the Dutch will be through the immigration and naturalisation services for the purpose of approving your visa application. Although the process itself is fairly straightforward the immigration service requires you to provide specific detail regarding living arrangements and financial status. You should finish your visa application as soon as possible seeing as visa applications tend to take quite long to process. If at any time you have any questions you should contact a representative at the Erasmus International office.
While your visa application is being processed you will be contacted by the international office to begin your course selection and pre-registration process. Depending on the faculty of your choice, your selection might be quite limited; and course timeframe as well as the course content may prevent you from completing your modular requirements. It is suggested that at this time you review the requirements for your module. It is also important to establish contact with your department advisor as they will eventually be signing off on your course selection form.
It would also be wise to get a head start in your search for housing at this time as the rental market typically becomes saturated around August and September. You can try to apply for one of the 500+ international student dorms on the Erasmus campus. However, spots typically fill up pretty quickly and you may find yourself looking for housing on the private market. If that is the case the international office has provided a list of housing platforms to assist you . Room rates fall between €300 and €1000 euros and will usually require an initial safety deposit. To avoid fraud, begin a dialogue with a landlord prior to paying the security deport; sometimes a skype chat is a useful way to determine if the landlord is being honest about the apartment. Avoid paying the security deposit through a wire transfer service like GwK or Western Union. It is preferably that you use a bank service.
Depending on when you arrive in the Netherlands you may be able to use the ESN pick-up service. If however you arrive at a date when the service is unavailable it is advised that you purchase an OV-chipkaart. Since you are probably staying for 12 months or less it is advised that you purchase the anonymous card. You can load credit as you need on the anonymous card and add access to the train network as needed. Since the transportation infrastructure of the Netherlands is interconnected,you will only need this one card.
Once you meet with your landlord and are settled your next priorities will be to register with the city council and obtain a bicycle. When registering with city hall make sure to pick-up your residence permit beforehand. A residence permit ensures you are a legal resident of the Netherlands for the time allotted by your visa. A residence permit also allows you to freely move between non-Schengen states and the Netherlands.
Bicycling will probably be your main form of transportation in the Netherlands. With the Netherlands' extensive bicycle infrastructure, bicycling will be a cheap, safe and reliable form of transportation. Given your probable duration of stay, a used bicycle will probably suit you fine. Most reliable used bicycles will run you between €70 and €100. Bicycle theft is the most common crime in the Netherlands so when you purchase your bicycle it is also wise to buy a chain lock. The girth of the lock should be at least 5cm and it should be encased in a protective sheath. For extra protection make sure your bicycle comes with a wheel lock for the back tire. Finally, make sure to obtain some sort of proof of purchase for the bicycle as it is a useful way to avoid disputes with the police.
On a final note, make sure to take advantage of the orientation programs provided by ESN and the international office. These services will help you get acclimatized to living in the Netherlands and will provide you with useful information regarding the geography of Rotterdam, shopping, safety and academics. Furthermore, it is suggested that you take this opportunity to travel outside of Rotterdam. By living in the Schengen area you are connected to one of the most sophisticated transportation networks in the world allowing for cheap and efficient travel between 26 different nations.
I hope this write up was useful in helping you understand some of the basic steps of your integration process during the academic exchange in the Netherlands. If you have any questions it is advised that maintain contact with the international office staff. The Erasmus international office staffs are very helpful and they will ensure that your transition to Erasmus University Rotterdam goes by smoothly.
I had the privilege of spending my third year abroad studying in Pune, India, a big city about three hours south of Mumbai.  I studied in Pune through the Ontario-Maharashtra-Goa (OMG) Exchange Program, an organization that sends students from Ontario to select Indian universities, while allowing students from India to come to Ontario to study.  All students participating in the exchange receive a stipend from the program to help with the costs of exchange.  As a student going from Canada to India you receive a $2500 stipend, which goes a long way since the cost of living is much lower in India.  This was extremely helpful and allowed me to travel around India and other South Asian countries throughout the year!
During my time at Pune University I took courses from the Politics Department, the History Department, and the Defense and Strategic Studies Department.  The courses were taught in both English, and the local Indian language, Marathi. All my courses were approved and will count towards my degree, however the process of selecting courses was tricky because the university doesn't post available courses online.  I had to wait until I arrived in India to choose my courses from bulletin boards posted in each department that had the available courses for that semester.  The course selection process was stressful, especially being from the IR department at Western, because there isn't a huge variety of courses to take at Pune University, and many of them don't fall under the eligible course list for the IR module.  The professors are very flexible and helpful and in the end all my courses transferred over.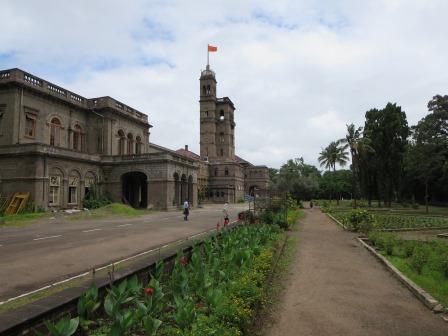 My exchange experience in India was extremely hard and frustrating at times, but it was an incredible learning experience that allowed me to live outside of my comfort zone and gain international experience that is useful for a student studying IR.  I was able to live and study in an environment that was completely different from anything I've ever experienced before.  The OMG exchange program allowed me to learn about international relations not just inside the classroom, but outside the classroom as well, in a highly educational international experience.
I spent the second semester of my third year studying at Francois Rabelais University in the city of Tours, France (about two hours south of Paris). During my time there I studied a variety of different subjects including French translation, American studies and International Relations. Being able to take electives abroad in a Pass/Fail system allowed me to broaden my horizons and challenge myself by studying in new fields. During my time there, I lived in a mixed residence with French and exchange students from a variety of different backgrounds. This experience was valuable to me as it provided me the opportunity to interact daily with different people from a variety of different cultural backgrounds.
This experience was beneficial to my learning in International Relations as it allowed me to study outside of Western for a period and exposed me to other institutions' methods for learning and approaches to IR scholarship. I also was able to study under professors from the United States, Germany and France and gained insight from a perspective other than a purely Canadian outlook. My courses were taught in English but there was opportunity to participate in the CUEFFEE language school at the University to practice oral and written French in bi-weekly classes.
I would encourage students to do as much of the logistical organization for course transfer credits before departing for their chosen destination, and potentially to enroll in an extra course-load in the semester preceding and following the exchange. While this may not be necessary and the entirety of the course-load may transfer back, it was very beneficial to be able to study as many electives as possible during my time abroad, and allowed me to maximize my experience and exploit the pass/fail nature of credits received abroad.
I spent my third year studying abroad in Grenoble, France, a city in the Alps about an hour from Lyon. I received a Certificate in Political Studies from the Grenoble Institute of Political Studies, one of 9 Sciences-Po campuses across France.
I studied in Grenoble as one of 50 Ontarian students participating in the Ontario Rhone-Alpes (ORA) Exchange Program, a regional exchange program between the provinces of Ontario and Rhone-Alpes. I would highly recommend any student with a good level of French to consider applying for the ORA Program – as it is a government program, there are specific scholarships for all participants that make studying abroad a lot more affordable.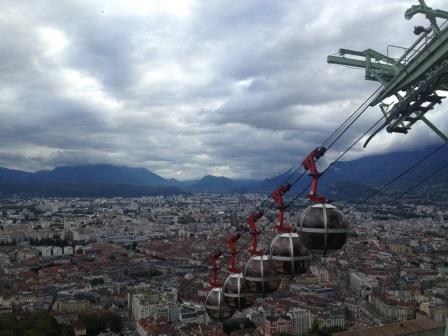 My exchange experience was incredibly beneficial to my degree. I followed a combination of courses in history, political science, international relations and law, all instructed in French. Participating in seminar courses broadened my horizons through offering unique opportunities to hear European opinions on international issues. It was also great to have a whole new set of courses to choose from outside of the courses offered by Western – I was able to take in-depth specific courses about the European Union, the Arctic and Arabic politics that weren't all offered by Western. Studying in French also greatly improved by language skills and confidence speaking in another language.
Before participating in an exchange, ensure that you will be able to exchange the credits for the courses you participate in abroad for Western credits. The process is a little complicated and might be frustrating, but it definitely pays off in the long run for the incredible experience you will have abroad. 
For more information about the ORA Program, see the Program's website at http://www.ora.ouinternational.ca/. For my year-end report about my experience in Grenoble, please see:
http://ora.ouinternational.ca/sites/default/files/Liam%20to%20IEP%20Grenoble,%202013-14.pdf.
I spent my third year in Tuebingen, a small university town located in southwestern Germany. I studied International Relations and pursued a minor in German Studies. In this quick summary, I will discuss the compatibility of the University of Tuebingen and Western University in terms of history and political science credits.  
It is very difficult to plan ahead which classes you will be attending during your year abroad because the academic calendar changes continuously. This means that you will have to get your courses approved while you are in Germany; excellent communication with your undergraduate chairs and academic advisors is therefore crucial. All political science classes that I selected were taught in English and there were plenty of fascinating courses to choose from. Western approved all of them and I had no problems in this department. The only problems that I had were concerning my history credits. All history classes in Tuebingen are taught in German and only a few of them fit the International Relations module at Western. I only studied German for two years in university before moving to Germany; this is usually the level that is recommended to exchange students. Fortunately, I was able to take my exams in English and my grades did not suffer much. You should also be aware that Western makes some exceptions for exchange students. This means that you can take some history classes that are specific to your exchange country, in this case German history, even if they would not normally fit the International Relations module. This makes choosing classes much easier because, unfortunately, the history department at Tuebingen University does not offer as many history courses as Western.
I hope that this information will be useful to you. Good luck on your exchange!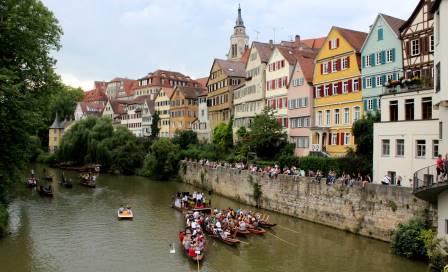 In 2012-2013, I was fortunate to participate in Western's international exchange programme in both France and the Netherlands. To say the least, the past year was unbelievable! I studied a broad range of subjects concerning International Relations, African studies, European politics, American foreign policy, British history and French. In my first semester, I was at the Université François-Rabelais in the Touraine, a region known for its wines, pure French and quaint châteaux. During my second semester, I studied at RadboudUniversiteit in Nijmegen, the oldest city in the Netherlands. While on exchange, I had ample days filled with adventure and knowledge; acquired a greater capacity and confidence in speaking French; and met with many inspiring individuals from all over the map who I now call my good friends. I made sure to also engage in a variety of out-of-classroom experiences, such as the Model European Council in Belgium and the NATO International Spring School in the Transylvania region of Romania, both of which complemented my education by stretching my thinking with new learning.